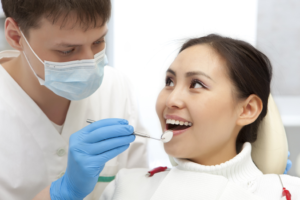 April is Oral Cancer Awareness Month, which means it's worth highlighting some important information about this deadly disease. It's estimated that 54,000 new cases are diagnosed annually, with roughly 40% of those cases having a pretty negative prognosis. But how can you ensure that you don't become a part of this alarming statistic? By visiting your dentist and knowing what signs to look for, of course! Here's a guide from your dentist for effectively safeguarding your smile from oral cancer.
Risk Factors Often Associated with Oral Cancer
Oral cancer can potentially affect every structure inside of your mouth, including not just your teeth and gums, but also your tongue, cheeks, lips, and neck. This means that there are quite a few things to monitor, and also many risk factors associated with the illness:
Smoking and using tobacco
Excessive alcohol consumption
HPV (Human Papillomavirus)
Old age
Sun or radiation exposure
Weakened immune system
Other types of cancer
Chronic poor oral hygiene
Common Warning Signs & Symptoms
Oral cancer isn't always glaringly obvious; it can remain hidden and difficult to detect if you don't know what you're looking for! Keep an eye out for some of these common warning signs and symptoms:
Swelling in the mouth, neck, or throat
Hard lumps on your cheeks or near your tongue
Abnormalities that bleed easily
Red, pink, or black sores that don't heal
Loose teeth
Constant bad breath
Difficulty speaking, chewing, or swallowing
How to Minimize Your Risk of Oral Cancer
Believe it or not, oral cancer is among the most preventable types of cancer, and there's quite a lot you can do to actively safeguard your smile from the illness. Arguably the best thing you can do is visit your dentist biannually for routine dental care. These visits entail much more than a simple cleaning; they include an oral cancer screening carried out by your dental team. These inspections are meant to detect any existing precancerous signs, and they're integral for preventing oral cancer from progressing toward later, more deadly stages.
It's also wise to avoid poor oral habits such as smoking and using tobacco products. In addition to causing a slew of other health issues, these consumables can completely decimate your oral structures and greatly increase your likelihood of developing oral cancer. Lastly, you should strive to maintain a clean mouth by keeping up with your oral hygiene at home; brush, floss, and rinse daily to provide yourself with the best possible odds of avoiding oral cancer and other issues.
You shouldn't live your life in anxious fear of oral cancer; by remaining informed and diligent, you can easily ensure that your mouth is cancer-free and that your smile remains brilliant and healthy for several years to come.
About the Practice
The team at McCleaster Family Dental is thrilled to serve patients and families in the Ledgewood, NJ community under the leadership of Dr. Michael McCleaster. Dr. McCleaster received his dental doctorate from the University of Medicine & Dentistry of NJ and has spent countless hours continuing his education in a wide range of fields. His practice offers a wide range of services that are certain to help you achieve and maintain a dazzling and healthy set of pearly whites! If you have any questions about the article or would like to schedule a visit, feel free to contact his practice through their website or by telephone for further assistance. Telephone: (973) 598-0800.